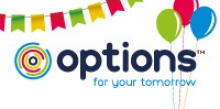 The Options UK brand was launched a year ago with a mission to bring an innovative, solutions-based approach to the UK market.
Despite the pandemic taking over our lives in more ways than we could have imagined, Options UK has already become established as a trusted brand. That would be a significant achievement at any time, but in the context of challenges that all businesses have faced in the past year our success is a testament to the strength of the brand, our business, and our people. 
Of course, we couldn't have done it without our magnificent team, customers, and business partners – so we must say a big thank you to them for their continued support. Our MD, Christine Hallett, took a few moments out of her busy schedule to reflect on our achievements. She said: "2020 was a difficult year for all businesses in all sectors, but even more so for us because we launched a new brand in a very competitive market. I think we can be very proud that Options UK has quickly become established – including recognition in a recent employee engagement programme – in such a challenging year. That's the biggest achievement, but there are many others. We have retained the vast majority of our existing customers, and added another 75,000 members to our Master Trust. Our pension administration capability increased following the acquisition of two well-established businesses – and we secured some new long-term key strategic partners for our SIPP/Workplace pension and SSAS businesses."
As you can see, we've established a firm foundation in our first year which allows us to move forward with confidence. It means we can build on our key strengths – knowledge of pension administration, new technology platforms, and our hard-working and loyal workforce.