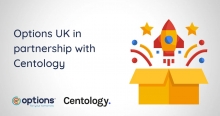 Centology, a startup provider of integrated financial software has announced the launch of its new SIPP in partnership with Options UK. The SIPP is designed to provide clients with quick and easy access to a low cost and completely paperless pension.
Rollout of the SIPP adds to Centology's growing range of products which include ISA/JISA's and GIA's, with development ongoing on a range of investment linked annuity products.
Joe Power, Operations Manager at Centology:
"We are thrilled to partner with Options UK and introduce this new SIPP product. 

 

Utilising our technology and Options' technical expertise we've created a SIPP with real time data and unparalleled functionality across the industry. Clients deserve control and transparency when it comes to their financial future, the Centology Options SIPP delivers precisely that."
Christine Hallet, Managing Director at Options UK said:
"The whole team here at Options UK are delighted to be the official SIPP pensions provider for Centology which will provide a seamless process for advisers to onboard their clients. It provides an innovative technology driven solution for advisers to add value and deliver excellent customer outcomes for their client. In short, it will enable them to deliver on the new Consumer duty principles which is key to the industry moving forward.

 

The power of Centology will evolve in the future and its exciting to work with both David Stamp and Jo Power in being chosen as a trusted partner."
The Centology SIPP is now available to advised clients seeking to take charge of their retirement savings.
To learn more about Centology SIPP, contact your adviser or speak directly to Joe Power, 
Operations Manager at Centology:
Joe.Power@centology.io.
Centology are a new entrant into the fintech market, providing integrated and innovative solutions that bring client, financial adviser, investment manager and provider in to one environment.
With this collaborative and customer-centric approach Centology sets out to empower individuals to achieve their financial goals through technology-driven solutions and expert guidance.