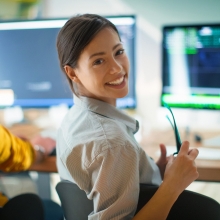 With more and more accountants being asked by clients for help with setting up a workplace pension scheme, Options UK is now servicing this growing market by offering new products. 
Options UK has 20 years' experience in running workplace pension schemes and today looks after over 3,000 companies. The specialist independent SIPP and SSAS provider recently rebranded and repositioned the business to meet the needs of specific sectors, with accountants being a key focus.
Managing Director Christine Hallett said: "Options UK is all about making things easy in these difficult times. Just as accountancy is a highly skilled profession, helping businesses to make the best decision about workplace pensions requires specialised knowledge and expertise too. We know that many accountants opted for NEST as the default option for their clients and may now be considering a review of this initial position.
Using our expertise means we can help and it's possible to take the hassle out of setting up workplace pensions. In fact, in under 10 minutes we can show accountants how to set up a scheme for their client, then they can just leave the rest to us! We'll guide the client through the set-up and management of their pension scheme and ensure they carry out all their legal duties regarding pension provision for their staff."
Options UK provide the
Options Workplace Pension Master Trust
(authorised by the Pensions Regulator), simple and easy to use technology, support from Options' UK hub based in Milton Keynes, peace of mind with a strong scheme governance, and excellent member outcomes from world renowned investment specialists.
Christine Hallett added: "Whether it's a scheme for a brand new start-up company, large or small, or a client looking to improve an existing scheme, we can help. We already work with employee benefit firms, legal and accounting partners, and payroll providers to look after their clients, and our largest individual scheme has over 5,000 members so we know how to look after big companies as well as the small employers. We also offer a Halal focussed, Sharia compliant section of our workplace pension for employers that need a solution for their Muslim workers."