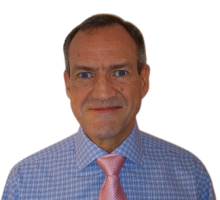 Roger Grosvenor - Pensions Consultant for Options EBC
Here he shares his career backstory and what sets Options apart from their competitors.
What do you think separates Options from your competitors?
Having a team with a wealth of experience and expertise is a significant advantage. That's strengthened further by a powerful brand, a business with firm foundations that's now in its third decade, and the backing of a multi-jurisdictional financial services PLC, STM Group. In the field of employee benefits, we have an in-depth understanding of the needs of employers and employees, and the vital role that benefits packages play when it comes to hiring and retaining staff in an increasingly competitive jobs market.
Tell us about your career backstory.
I joined Options in early 2020 as Business Development Manager for UK Corporate Pensions. In my current role I look after about 60 employers and their employees, and help them with their DC pension schemes. In total, I have more than 25 years' experience in the corporate pensions industry, including senior roles at Zurich and Standard Life. Most of my career has involved working in the Defined Contribution pensions arena. This experience gives me a rounded understanding of the pensions marketplace, and the needs of clients.
What do you enjoy most about working at Options?
Options is a business which has drive and ambition, and a real customer focus. This was one of my main reasons for joining the team, and it still motivates me today. But the thing that gives me most pleasure in my role is being able to meet with pension scheme members at the employers that I look after. It's really satisfying to know that I can inform them about an important subject and help them to get their best outcome, so that they are informed and engaged, and able to plan for the retirement that they are hoping for.
Finally, tell us about how you spend your free time.
I run a few times a week, so I can eat whatever I like! I love to watch films, and this is helped by living almost next door to a local cinema which my wife and I support. We also enjoy going on holiday to the south of France - if you give me sunshine, a poolside view of the French Riviera and a chilled glass of wine, I'm a very happy man!