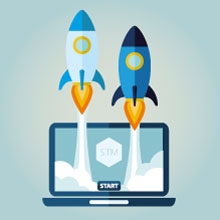 We're celebrating a successful start for two businesses that were rebranded and relaunched last summer following acquisitions by our parent company STM Group Plc. 
Options UK Managing Director Christine Hallett says the businesses – Options SSAS Ltd and Options EBC Ltd which are both based in Leicester – have made a significant contribution to Options UK's growth in the past year, and will be important elements in the company's strategy going forward. She commented: "We now administer over 200 SSAS schemes, and we're working with specialist advisers and accountants to take over more from other firms, while also looking at smaller portfolios of SSAS books to continue to grow the business. In addition, we have third party administration agreements for providing employers with pension services for DC and DB schemes which range from managing auto-enrolment for employers, independent trusteeship and administration, together with group risk services. Looking ahead, we will be aiming to expand those services to employers that need a more efficient added value proposition, but without paying the extraordinarily high fees that the bigger firms charge."
STM Group Plc acquired Berkeley Burke (Financial Services) Ltd and Berkeley Burke Employee Benefit Consultants Ltd in August 2020. The businesses were integrated into Options UK to further strengthen its position as a leading UK provider of SIPPs, SSAS, and workplace pensions.