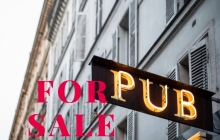 More than 150 pubs in England and Wales called last orders for the final time in the first three months of this year.
Statistics issued by Altus Group (based on official government data) revealed that 51 closed per month – a total of 153, which is almost double the figure for the same period in 2022. 
While that's very sad news for the owners, employees, regulars that the pubs serve, it does create investment opportunities for property buyers who want to play a part in regenerating the communities that are affected. In particular, it opens up some interesting options for syndicates, partnerships OR groups of individuals that want to benefit from the tax advantages of purchasing a commercial property through a SIPP (Self-Invested Personal Pension). 
This allow groups of investors to pool their pension pots to purchase former pub buildings that would otherwise be beyond their budget. Investing in this type of property is now even more attractive, as commercial property SIPP expert Lisa Bardell (Business Partnership Manager at Options) explains. She said:
"Government and local authorities recognise that many high streets and town centres are in need of regeneration. This means it can, in many cases, be possible to gain permission to renovate these properties and reopen them as new pubs or bars, or for other purposes which opens up a number of flexible opportunities.

 

As a lot of these properties were designed with the pub or bar on the ground floor and living accommodation for the owners or managers above, many are well-suited to relatively easy conversion." 
Another consideration is 'splitting title' rules and regulations which apply in England and Wales (similar rules, but using different terminology, apply in Scotland too). Every commercial property purchase has its own unique set of circumstances, of course.
However, for the purposes of purchasing commercial property via a SIPP, it can, in some cases, mean that the business premises can be 'split' and considered separately.
If, for example, the residential part is not going to be used by the employed person/s who will have in their employment contract that they are required to live on the premises as part of their employment.
By splitting the title the upstairs of a pub could potentially be developed into residential accommodation (flats/apartments) and sold off separately, because the original title has been legally split, creating two distinct ownerships and leases.
"For example", says Lisa, "where a former pub building now has business premises on the ground floor and apartments on floors above, the business premises could – if certain criteria are met – be included in a commercial property SIPP with all of the tax advantages that brings. The SIPP owner could then receive rental income from the commercial property tax-free and incur no Capital Gains Tax liability when the property is eventually sold.

 

In addition, there is no requirement for the SIPP owner to operate any form of commercial enterprise of their own to receive these benefits – that's because the advantages to business owners multiply when they acquire their own commercial premises using a SIPP and effectively become a tenant in their own property."
In this scenario the owner's business pays a regular market rent to the SIPP and this reduces the member company's taxable income, freeing-up capital for investment. The rent paid by the business accumulates tax-free within the SIPP, and that in turn could be used to invest in other asset classes. 
"There are also benefits in terms of the stability this arrangement provides both for the SIPP holder and the business. The business has a stable landlord who has no intention of selling, while the landlord benefits from having a stable tenant who can be relied upon to pay the rent.

 

When you think of this in the context of a landmark pub at risk of falling into disrepair and becoming a blot on the landscape, but then being revitalised by investors who want to breathe new life into an iconic property at the heart of their local community, it's a win-win all round."