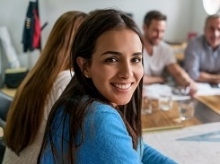 In 2018, during an uncomfortably prolonged period of see-sawing fluctuations on the US stock market, the bookseller Barnes & Noble reported that sales of books on anxiety rose by 26%. We can only imagine how sales of anxiety-related titles have fared in recent weeks as markets across the globe have swung violently on an almost daily basis.
If the market's extreme volatility has served one purpose, it has been to highlight the need for investors to keep their finances in decent shape. History may reassure us that over the long term equities outperform cash, but in the meantime, investors continue to ask how they should react today. 
Friends and family are usually consulted for their opinion, although in truth few are likely to offer much more than financial platitudes. By contrast, an independent financial adviser (IFA) can provide investors with a combination of guidance and recommendations, especially as many have experience of operating during crises similar to the one with which we're currently contending. 
The 2013 Retail Distribution Review (RDR) overhauled the UK's financial advice sector, insisting that IFAs obtain higher-calibre qualifications, effectively banning them from selling commission-based products and 'professionalising' their role. It follows that during periods of financial unpredictability, consulting an IFA could prove a sound investment. 
Though we're deep into a financial crisis, a qualified adviser will earn his or her corn by establishing broad asset allocations suited to the individual's longer-term requirements and providing recommendations for possible future action. 
Many people believe they need to consult an IFA only when comprehensive financial advice is required, but advisers offer a full range of 'one-off' services: from providing guidance on budgeting or basic financial planning, to offering a professional opinion on the benefits of insurance protection or advising upon the establishment of a self-invested personal pension. 
Moreover, today's professional IFA is no longer a box-ticker. Good advisers assemble a broad picture of their clients by enquiring about their personal circumstances, understanding their lifestyle and by clarifying their attitude towards risk before translating this information into actionable decisions.  
While it may not have any impact upon market volatility, the professional advice provided by an IFA can restore investor confidence and alleviate anxiety, a useful 'double whammy' during troubled times. 
Contact your local IFA for further details of all Options UK products and services.