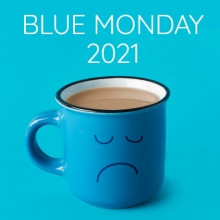 We've all had lots of 'blue Mondays' in recent months – but the official Blue Monday this year falls on January 18th.
It's held on the third Monday in January because, say experts, statistically that's usually the worst day for feeling down in the dumps. At Options we always look on the bright side, so we think it's also a great day to beat the blues by thinking positively and doing something practical to plan ahead for your tomorrow.
The theory behind the third Monday in January being the most depressing day in the whole year is based on a calculation which takes into account many factors, including personal finances. Big credit card and home heating bills (even bigger now for those of us working from home during lockdown) at this time of year are enough to make many of us reconsider our spending, saving, and financial planning for retirement. 
Our CEO Christine Hallett, who has over 30 years' industry experience, with expertise in both SIPP and corporate pensions, says: "If you have many years to work before your retirement, Blue Monday can seem even more depressing if you dwell on negative thoughts about how long there is to go. Taking action to turn your dreams into reality is a great way to beat the blues – and that, ironically, makes Blue Monday the perfect time to start the process of reviewing your pension plans."
Here are our 5 practical steps to review your pension plans
1.
Talk to an Independent Financial Adviser – if you don't have one, you can find one
here
.
2.
Choose an IFA who takes the time to understand your unique circumstances and requirements.
3.
After taking advice from your IFA, shop around and consider all the retirement options available to you because different providers offer different products and solutions, and not all will be appropriate for your needs. 
4.
Ask your IFA about Options' wide range of solutions. 
5.
Most importantly, choose the best solution for you, not just the best 'off the shelf' product. 
"For most providers, talking about products is where the conversation ends," adds Christine. "At Options, talking about products is where the conversation begins. Planning for tomorrow needs options – so we are totally focussed on providing you with a choice from which you can select the best solution for you."