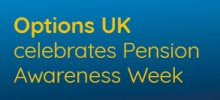 Pension Awareness Day: Ideal time to review your pension plans
Whether you are nearing pension age or have decades to go, @PensionDay on September 15th is a good time to take a fresh look at how you're going to fund your retirement.
Here are our 5 practical steps to review your pension plans
Talk to an Independent Financial Adviser – if you don't have one, you can find one here.
Choose an IFA who takes the time to understand your unique circumstances and requirements.
After taking advice from your IFA, shop around and consider all the retirement options available to you because different providers offer different products and solutions, and not all will be appropriate for your needs. 
Ask your IFA about Options' wide range of solutions including our SIPPs
Most importantly, choose the best solution for you, not just the best 'off the shelf' product. 
For most providers, talking about products is where the conversation ends. But Options UK is different because talking about products is where we begin. Planning for tomorrow needs options – so we are totally focussed on providing you with a choice from which you can select the best solution for you.
At Options the starting point of the conversation is what dreams and aims you have for when you retire. Of course, everyone's circumstances are unique and the finances you need will vary greatly depending on what you and/or your partner want to achieve, and any plans you may have that concern children, grandchildren, extended family or friends. 
While it is difficult to put a £ figure on what that will cost,
research recently published by consumer body Which
? provides interesting food for thought. A survey of 7,000 retirees asked them about their annual spending and that data was then used to calculate rough estimates for how much annual income was required to live a 'financially happy' retirement, based on the current cost of living. 
When the data was analysed, Which? divided the survey respondents into 3 categories (essential, luxury and comfortable) based on the lifestyles their incomes made possible. Essential does what it says on the tin and covers basic everyday expenses such as food and drink, keeping a roof over your head and a shirt on your back, and all the other costs that are generally considered the bare minimum. Comfortable covered additional expenses such as an annual holiday, occasional meals/drinks out or trips to concerts/shows, and other little treats. Luxury includes all of the costs listed in the essential and comfortable categories, plus expensive once in lifetime holidays like world cruises, visits to 5-star hotels or restaurants, and a new car every 5 years. 
The consumer champion's experts calculated the magic numbers, as follows (all figures are per year):
Couples: £18,000 
Single: £13,000
Couples: £26,000 
Single: £19,000
Couples: £41,000 
Single: £31,000
Bearing in mind that the survey was carried out in February 2021 many of the retirees would have spent months in lockdown during the previous 12 months, so it's possible that in a 'normal' year spending in all categories (but especially the 'comfortable' and 'luxury' categories) would be higher. 
Based on the survey's findings Which? calculated that on average UK couples need a pension pot of over £150,000, plus funds from the couple's state pensions, to cover the costs of a 'comfortable' retirement. 
If you don't have a pension plan, or have a plan but are concerned about whether it's enough to meet your needs,
Pension Awareness Day
is a timely reminder to give it some more thought. 
Whether you envisage a luxury lifestyle for you and your loved ones, want to just be comfortable, or would be happy with a simple life where you only need the day-to-day essentials, a happy retirement may cost more than you think.